00000177-efb4-dee4-afff-efbec5b90000Click here for voting information on polling places, voter registration, and more. To meet the people who want to represent you, click on the "live" links below for feature pieces on contested races. New features are posted weekly and all reporting will be posted by March 1st. HQR News 91.3 FM...For complete Election 2020 News and Coverage. Results Primary 2020 Results: Ted Davis, Jr. Wins In District 20 House ContestPrimary 2020 Results: Race For New Hanover County Commissioners Down To Three From Each PartyPrimary 2020 Results: The Race For NC House District 19Two Incumbents Out, One Remains in 2020 Brunswick County PrimariesChristopher Ward Wins 7th Congressional District Democratic Primary, Will Challenge Rouzer Coverage from CoastLine: CoastLine: Primary 2020 Results Bring November into FocusCoastLine: Primary 2020 Preview - Races, Issues, Candidates with PCDWHQR Talks With Port City Daily's Ben Schachtman on Local Issues and Upcoming Primaries*Any inquries about 2020 Primary Election Coverage can be addressed to Rachel Keith at rkeith@whqr.org. Reporter Coverage: US House District 7 - DRobert Colon Mark JudsonChristopher M. Ward NC House District 19 - R Charlie MillerDavid A. Perry NC House District 19 - D James Dawkins, Jr. Marcia MorganNC House District 20 - R Ted Davis, Jr. Justin LaNasaNHC Commissioner - D Jonathan Barfield, Jr. Don Betz Leslie CohenKyle HortonSteve Miller Travis Robinson NHC Commissioner - R Deb Hays Joe IrreraHarry KnightJohn Lyon Frank Christopher MearesRicky Meeks Matt Rhodes Bill Rivenbark Skip Watkins NHC Board of Education - RJanice CavenaughFrederick Fisher Stephanie KraybillPete Wildeboer BC Commissioner District 3 -R Pat Sykes Jeff WinecoffBC Board of Education District 2 - R Catherine D. Cooke David M. Robinson BC Board of Education District 4 - RShirley C. Babson Steven Barger Ellen G. Milligan
Primary 2020: NC House District 20 - Davis v. LaNasa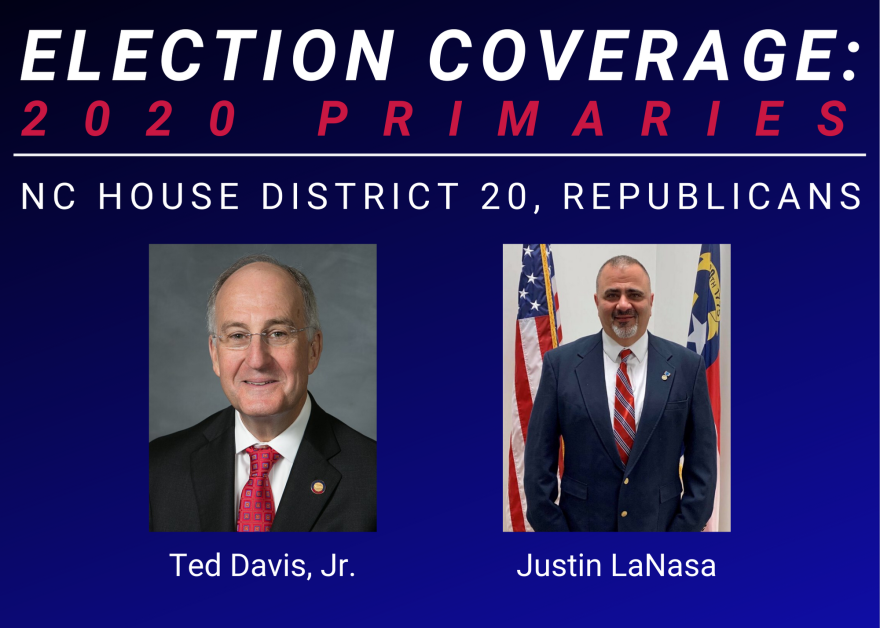 North Carolina House Districts have new maps this year. That means Representative Ted Davis, Jr., a Republican from New Hanover County who has represented House District 19 since 2012, is competing now in House District 20.
The new District 20 covers the northeastern tip of New Hanover County. WHQR talked with the two Republican candidates in the March 3rd primary: Ted Davis and his challenger Justin LaNasa.
Although he's run for office at the city, county, and state levels, Justin LaNasa has yet to win a seat.
"Ronald Reagan ran several different times unsuccessfully. Same with a lot of our other great politicians that finally made it. To accomplish things, you should never, ever give up."
LaNasa owns The Museum of the Bizarre in Wilmington as well as a tattoo shop. His major legislative priorities include lowering taxes. So how would he do it?
"You can make those cuts on things and renegotiate part of the budget to where it's, you know, I personally think we need to look at our education lottery when it comes to school funding, things of that nature. I mean, the education lottery is -- what I heard -- is a slush fund for our governor to do his pet projects. And then whatever's left over, education gets it."
LaNasa also says he wants to lower insurance rates, he'd love to be on the Insurance Commission, and he wants to solve the contamination of the water supply.
"What we're experiencing now with this pollution and none of our state representatives doing much of anything holding these corporations accountable for the pollution they're putting in our aquifer, GenX, Chemours, I mean, it's, it's a disgrace. It's a disgrace to their office. They shouldn't even be sitting there."
His opponent, Representative Ted Davis, says he is still concerned about the safety of the drinking water. He voted to fund the North Carolina Collaboratory – part of the University system in which researchers can share data and resources.
At the same time, Davis voted against a funding increase for the state's Department of Environmental Quality, the regulatory arm.
"It seems to me that DEQ is the one that's driving the train. I mean they're the ones that joined in with the local river keeper and negotiated that settlement in federal concerning Chemours. DEQ -- which I don't think was a great settlement cause I've yet to see how it really benefited us being downstream from the Chemours plant -- but be that as it may, DEQ plays a large role in this because you can say, well, the legislature ought to do this, the legislature ought to do that -- well DEQ is over here doing these other things. We need to work together, quite frankly.
The film industry is good, clean business, says Davis. And he wants to see it grow.
He also wants to continue dealing with the opioid epidemic.
"I've been involved in legislation to address it statewide. I've also been involved with legislation that got the money for Wilmington to have their opioid pilot project. And that's something that I want to continue supporting and hope that we can get additional funding. So we could make that pilot project a permanent project with recurring financing."
As a member of the state's school safety committee, Davis says legislation he helped pass in 2019 is part of the solution to recent troubling cases of alleged sexual abuse of students by teachers. But it's his time in the House, he says, that gives him a big advantage over a newcomer.
"Having the committee chairmanships that I have and being in a leadership role that I'm in now, like being the Senior Chair of the House Judiciary Committee, it really gives me a better avenue to talk to other representatives in the house as well as senators in the Senate about getting things done as far as legislation and funding that will not only help you New Hanover County but the state as well."
As for the ongoing budget impasse, Davis puts the responsibility squarely in the Governor's lap for insisting on Medicaid expansion.