Indigenous tribes saw the 'Ring of Fire' eclipse in a different light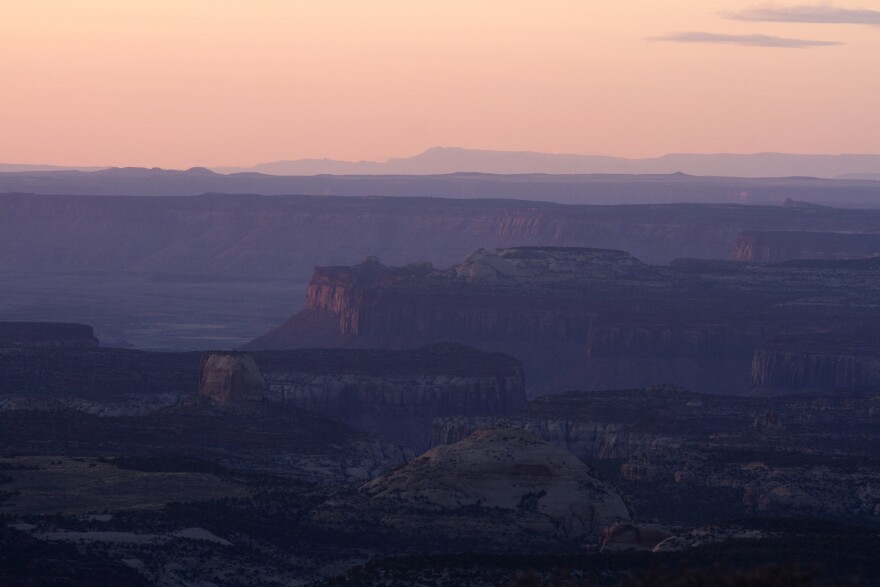 Millions flocked to parts of the western United States to watch the "Ring of Fire" eclipse on October 14.
Tourists hoped to see the skies for a few minutes while the annular solar eclipse traveled from Oregon to Texas and then into Mexico.
For those few minutes, the moon lined up precisely between the sun and the Earth, blocking out all but the sun's edges and giving the moon a blazing border.
But while people watched the cosmic marvel, Indigenous tribal members living in Utah, Arizona and New Mexico didn't join them.
The eclipse had a special meaning for tribes in this region, and they wanted to keep the spectators from disturbing them.
The Navajo Nation is one of the tribes that closed their parks on Saturday morning so their members could observe their cultural traditions during the eclipse.
Semira Crank is a Navajo member and the Visit with Respect program director with the Bears Ears Partnership in Bluff, Utah. She told NPR's Morning Edition that Saturday's eclipse would be a significant event for her tribe.
"The eclipse is considered a celestial phenomenon. I was taught to be respectful of the eclipse," Clark said. "Meaning that I was supposed to stay indoors. I couldn't eat or drink. There's no sleeping. And I'm not supposed to look at any kind of reflection or, a shadow of the eclipse just because that goes back to our cultural, cultural origin stories."
A solar eclipse is a new beginning in Navajo culture. The Navajo word for eclipse is jóhonaa'éí daaztsą́ — which means "the death of the sun" according to Navajo historian Wally Brown.
When a solar eclipse traveled across the southwest region in 2017, schools on some Navajo reservations were closed. People were granted administrative leave by their bosses, and tribal leaders encouraged members to practice traditional cultural rituals in their homes.
But it's not just the Navajo who observed the solar eclipse in the Bears Ears Monument on Saturday.
"There are over ten tribes who call Bears Ears their ancestral homelands," Crank said. "Each tribe has their own different beliefs surrounding the eclipse."
Even with some of the parks and natural monuments related to tribal lands being closed to the public in the southwestern U.S., tourists were still expected to visit the Bears Ears region to gaze at Saturday's eclipse.
Sarah Burak is the Educational Program Director for the Bears Ears Partnership. She is hopeful that visitors will remember to respect the indigenous tribes and their lands when visiting tribal regions to view natural events like the solar eclipse
"Make sure that you're viewing the eclipse from public lands. You're not parking in people's yards," said Burak. "That you're being respectful of their home and their right to experience the eclipse from their home."
Crank also encourages tourists to always practice what Bears Ears calls indigenous sensitivity.
"Be aware that there are tribes here who live here who make this our home, they want to protect and preserve it," said Crank.
Burak remained optimistic that the watchers would remember to practice Solar Eclipse courtesy on Saturday.
"We really hope that when visitors come, they do enjoy themselves and they are respectful to the landscape," said Burak. "But also to each other, because we're expecting it to be very crowded. So if we exercise some patience I think we can all have a very enjoyable experience."
Copyright 2023 NPR. To see more, visit https://www.npr.org.