GenX: Two Years Burning Down The Road, Part 2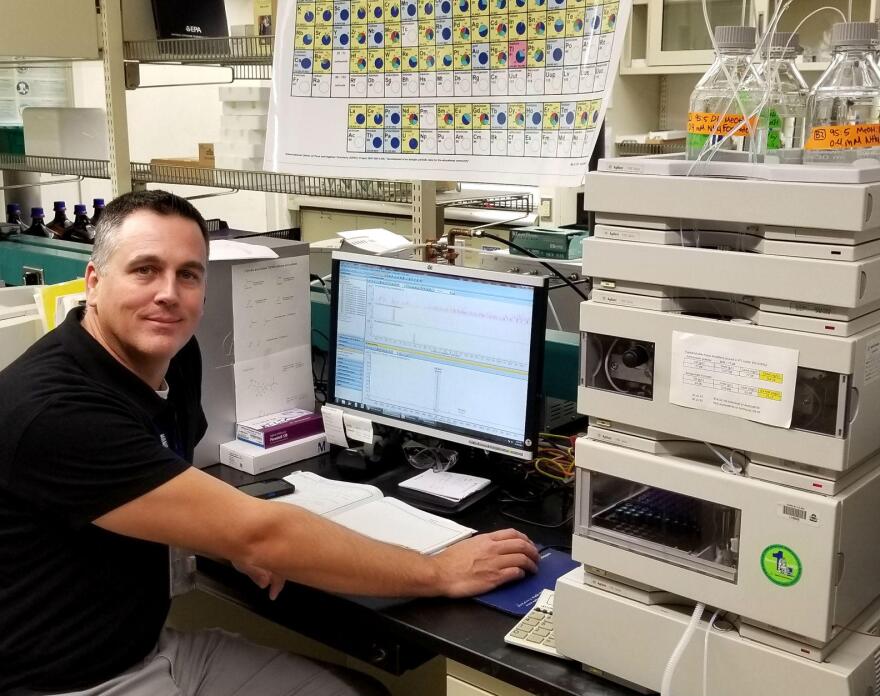 Residents in the Cape Fear region have been exposed to a lot of science in the past two years – as officials and citizens try to understand more about PFAS, GenX, Chemours and what else is in the water. In part 2 of this week's series, WHQR's Vince Winkel takes a look … at science.
(MUX – "Blinded me with Science" fade under)
In 1982 Thomas Dolby wasn't thinking about Chemours or GenX when he released 'Blinded me with Science' … but for the past two years in the Cape Fear region, science has been on the minds of a lot of people.
Chemistry, biology, geology, zoology, toxicology, pharmacology, epidemiology, genetics, biochemistry…
When the General Assembly began to discuss PFAS contamination in earnest, there were two camps.
One says: let's ship more funds to the state's Department of Environmental Quality. This would allow them to better enforce permits, like the one allowing Chemours to release wastewater into the Cape Fear River. DEQ could write better permits and increase monitoring and enforcement.
The other camp focused on research. They ask: where do the chemicals come from? How are they transported? How do they enter the body? What do they do to human and animal health?
Ultimately, the General Assembly went with funding more research, as opposed to Gov. Roy Cooper's preference – funding for DEQ.
Thus was born the PFAS Testing Network, also called the North Carolina Policy Collaboratory. Six universities are now charged with getting to the bottom of PFAS contamination and finding solutions.
"We have some of the best scientific minds for North Carolina's universities with us this afternoon. I know I'm looking forward to hearing what they have to say…." (fade)
This month scientists and researchers from those six schools came to Wilmington to explain what they are working on, at a forum sponsored by the North Carolina Coastal Federation at UNCW.
The schools in the research network are Duke University, UNC Chapel Hill, N.C. State, UNC Charlotte, East Carolina, and UNCW.
Some have familiar names to Wilmingtonians, like Detleff Knappe of N.C. State. He did the initial research and discovered PFAS and GenX in the water supply here. He says there's money to study past issues and public drinking water sources statewide.
"One important aspect of the Wilmington story discovering the GenX here two years ago is that the North Carolina legislature provided funding to support university research to study past occurrence statewide and public drinking water sources.
And I think that's a very positive development that resulted directly from the Wilmington story and not just a focus on drinking water but also on other exposure routes like a food. What are impacts on aquatic life, trying to better understand some of the impacts on human health, and understanding sources or PFAS better."
Knappe is focused on PFAS sampling and analysis.
Dr. Heather Stapleton of Duke is leading research on PFAS removal techniques.
"So some of the specific questions that we're trying to address are what's the best option to remove them from the drinking water for these commercially available membranes, ion exchange, these various resins that are often employed in drinking water utilities. What are the best choices and decisions to make, for including these, can they be optimized, etc. How can we remove them from certain waste streams?"
Stapleton's team may design new types of membranes to use for water filtration systems.
State officials say this collaborative research model is the first of its kind in the United States.
One of the teams is focusing on well water research, which is timely given the recent reports of contaminated groundwater wells in some parts of New Hanover County and the high concentrations of PFAS found in wells around the Chemours facility upriver.
"We are trying to understand why some private wells, around and even many miles from the Chemours facility are contaminated with GenX and other related compounds."
Jackie Macdonald-Gibson is a professor in the Department of Environmental Sciences and Engineering at UNC Chapel Hill.
Of particular interest to her is how the wells are becoming contaminated.
"It's very unusual because historically when we think about contaminants in water and drinking water, especially in well water, we don't really think about them coming from the air."
But they are coming from the air, adding a new dimension to the PFAS challenge.
"These GenX and related compounds are really unusual because what we're seeing is it looks like air is carrying these chemicals away from the industrial stacks and depositing them on the ground. Either just they settle out or deposit with the rain and then percolate through the soil again and get into the groundwater and then contaminate people's wells in that way."
It's important to note that much of this research is just getting underway, with any results months if not years away.
Adding to the science mix is the recent U.S. Food and Drug Administration report that states PFAS is found in foods that include grocery store meat, chicken, fish, lettuce and even chocolate cake. Where did that contamination come from?
Jamie DeWitt is with East Carolina University, and is working with the PFAS Network in applied research on possible health impacts.
She says most studies until now have been focused on water. Not food.
"So the bulk of our health data does come from drinking water exposures. But there are other epidemiological studies that have added to the database of PFAS health effects, that represent the general population and that people accumulate PFAS in their blood from many different sources of exposure which may have included contaminated water or food, dust, air or other sources."
Research is underway across North Carolina. Meanwhile other states across the U.S. are ramping up to check their water supplies for PFAS contamination. Be it from a manufacturer unloading its wastewater into a river, into the air, or its potential appearance in sewage sludge and fertilizer, which usually comes from manufacturer's wastewater sludge.
The EPA says it is taking a proactive, cross-agency approach with their PFAS Action Plan. They say they'll release more details of it at the end of this year. Vince Winkel, WHQR News.